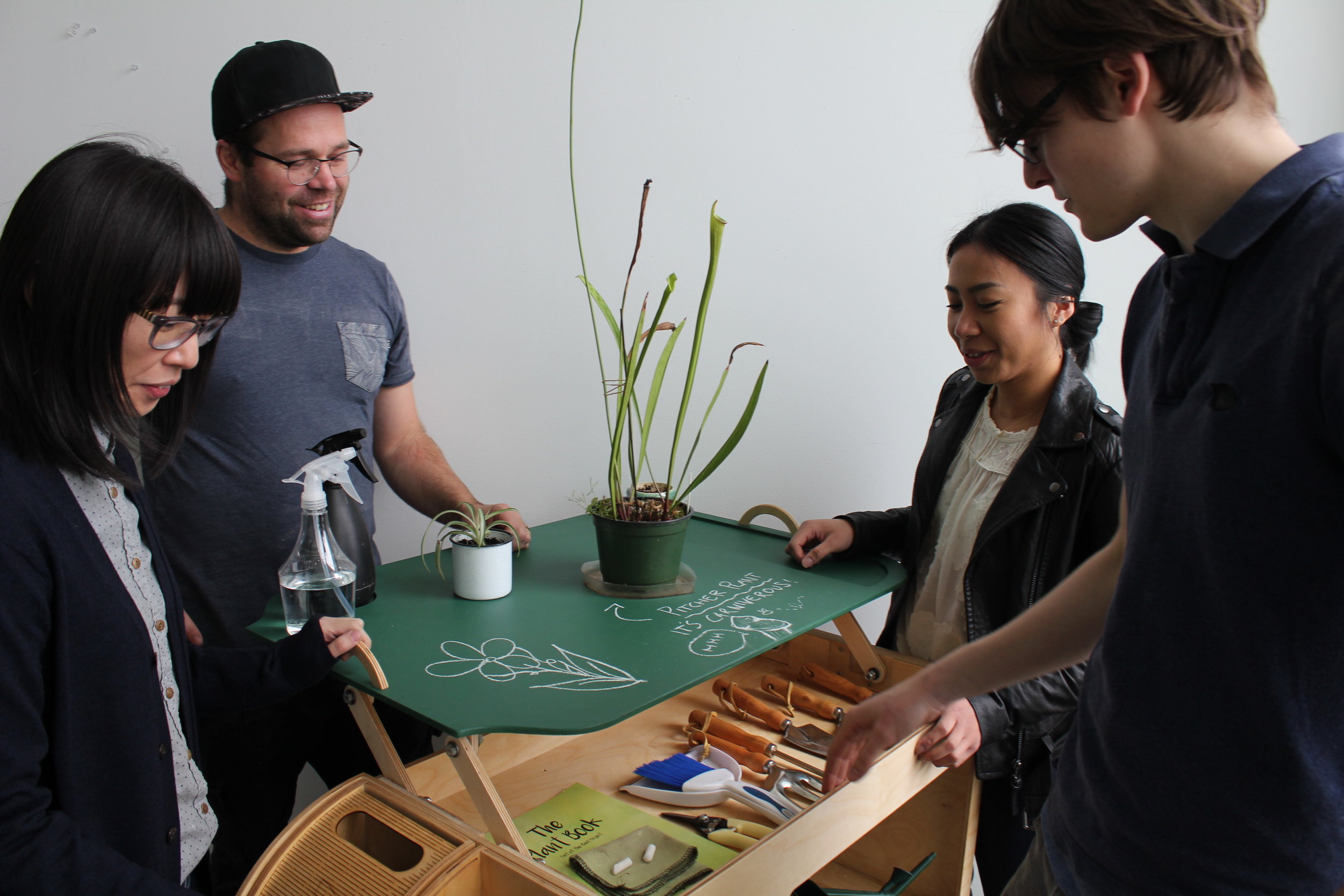 Creating the space for people to develop a better relationship with their plants.
The Plant Project won a 2018 Creative Conscience Award in Product and Structural Design. To learn more about the award please visit:
https://www.creativeconscience.org.uk/
Goals & Process
This project began with the goal to get young people interested in growing their own food. Through research it was discovered that in order to get people interested in growing their own food, they must become interested in growing in general. The Plant Project provides a support network for those who may have been afraid to grow their own plants in the first place and situates that support network within a place they visit often. Each plant stand would be located in local schools, office buildings and community centres. They could each be slightly different based on the communities needs. The final design below is designed for a workplace or school setting.
Assessment of interest and Knowledge
Lilypad Plates
Before my first community based plant event I wanted to make sure that those who were involved in the event would be more likely to care about the plants they were given.
This community event was very successful. Each person who adopted a plant got an info sheet with it that specified its personality and proper care. Through this probe and an online survey I was able to understand my users better. I discovered that people were three main reasons people didn't have any plants: they were afraid to grow plants because they had killed them in the past, they didn't have the right space to take care of the plants or they didn't have the knowledge necessary to keep plants alive. These reasons are augmented by people's lack of ability to identify the plants they own and thus inability to conduct research on the proper care of the plants. It was clear to me that my first challenge was getting people interested enough in plants and gardening to actually search out information on their plants, and gardening in general.
Ideation & Justification of Ritualistic Artifacts
My research pointed me in the direction of designing for habits. Through the use of ritualistic artifacts it was my goal at this stage to create interest in a an activity students see as stuck in the past.
Prototyping Ritualistic Artifacts
What makes an object interesting? What makes it look ritualistic? At this stage I conducted research on the aesthetics of ritual. I found that to create an interesting and special object some aspect of it is generally exaggerated, or else it must appear like someone spent a very long time on it. Above are my explorations into prototyping around the idea of ritualistic tools.
After this brainstorming session it became apparent to me that instead of creating a product I needed to create a system. This system needed to be a space that supported further learning about plants and also encouraged those who don't have experience with plants to give it a try.
This is the final survey I sent out. To make sure that my research lead me in the right direction I sent out this survey to possible users in my area. I found that most people really supported the idea. Below is my brainstorming from after I received the final surveys back.
After this brainstorming session it became evident to me that I needed to make a space that had the ability to be moved from place to place. I have been working with people to discover what would be necessary in a space like that. I have also been playing with the idea of the plant as the user and creating a space for the plant itself but in the end that would not meet the goal of the project. Thus, after prototyping a planter that would make it easier for people not to mess up their watering schedules I moved forward and onto a space that allowed for people to develop relationships with plants.
Prototyping Space - Planter
Prototyping Space - Personal Ritual
Prototyping Space - Communal
Reflection on Prototyping for Space:
For what I wish to accomplish with this project it made sense to go with the community based prototype. I am now in the process of user testing.
Proof of Concept
Providing a system:
This current model includes: shelving, a work surface, a backboard for notices, a watering can, two misters, nutrients, shovels, scissors, extra recycled containers, and the Plant book.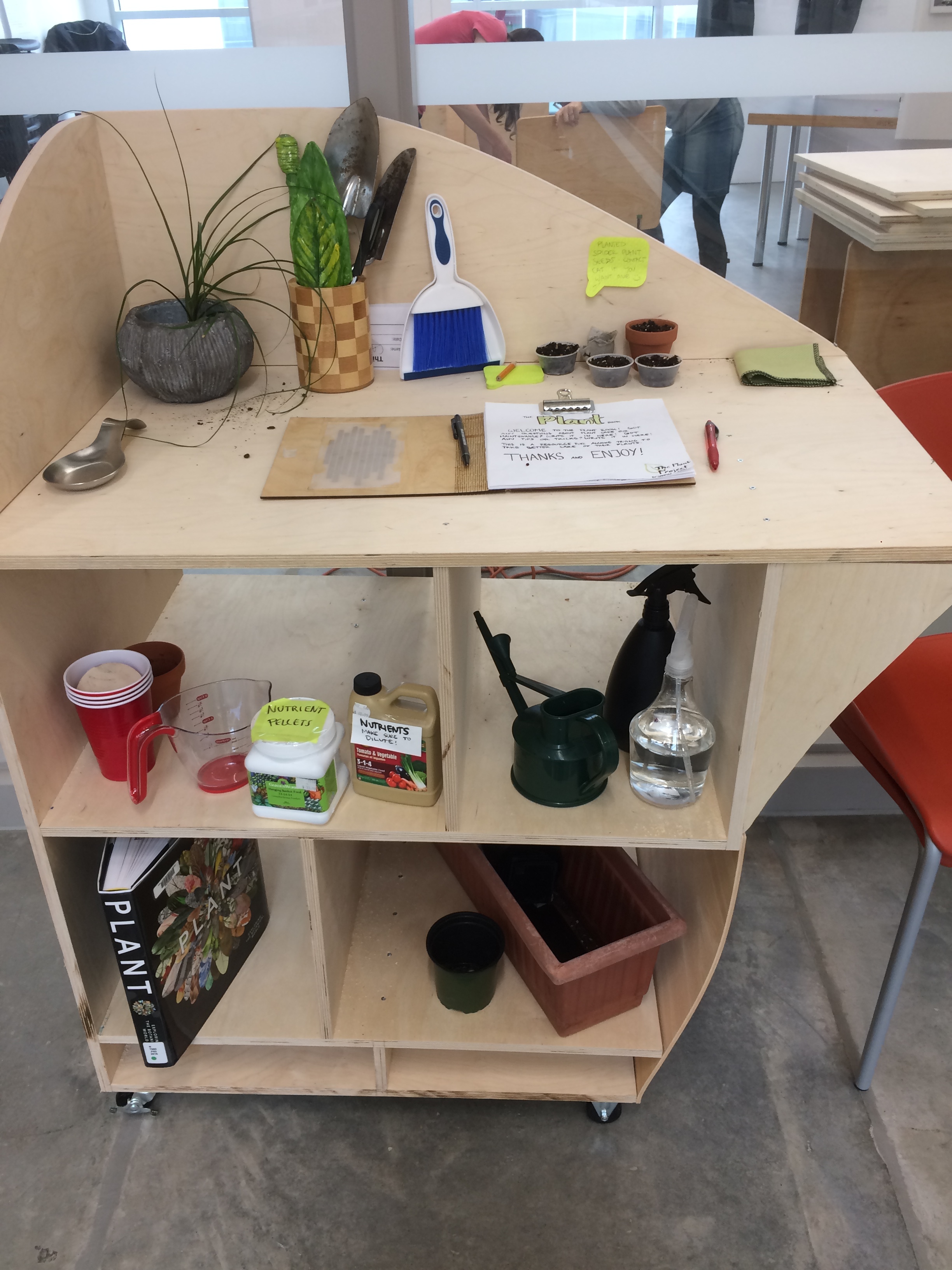 Creating Community
This project created a sense of community in the design studio and brought people from different programs together over their love of plants.
Second Semester Developments
During the second semester of development for this project I worked on user testing and refinement. I sent out many different surveys and co-creation kits. Below my process developing the refined shape and features is shown.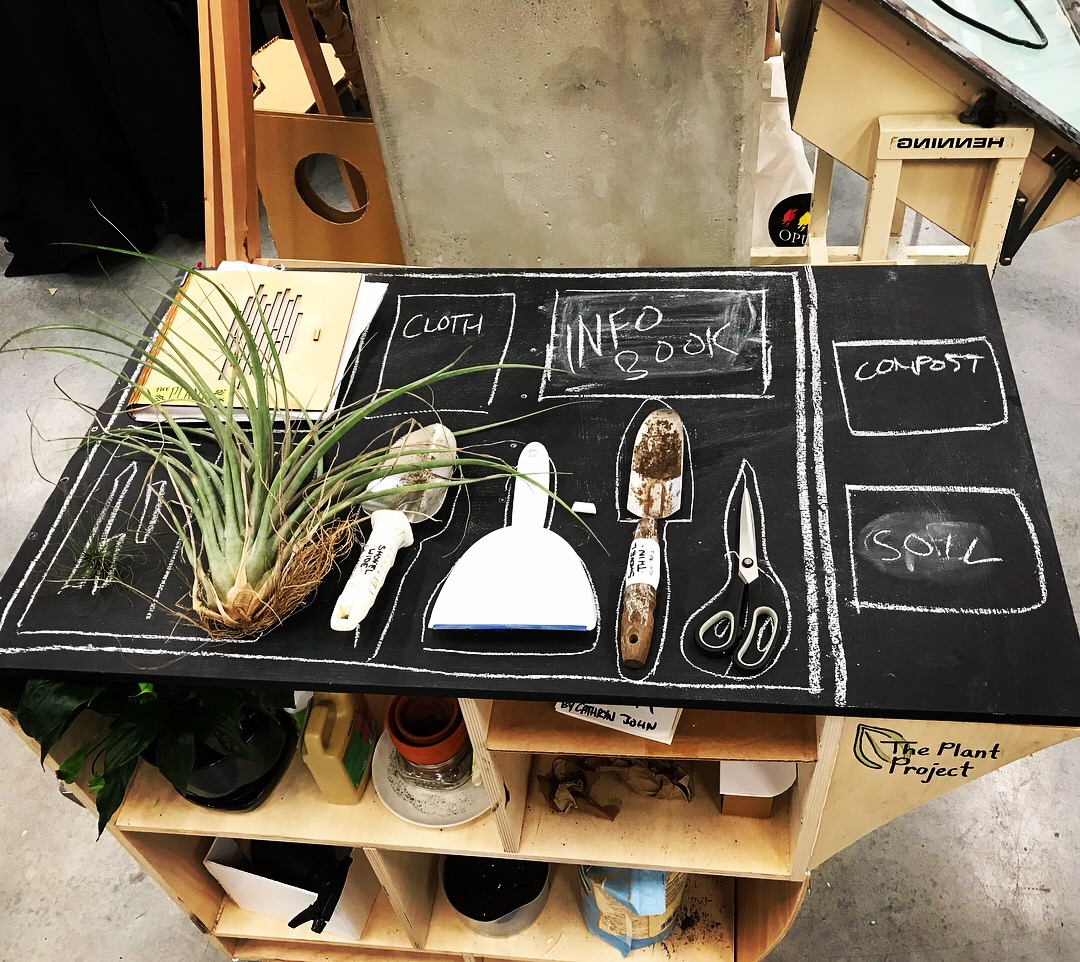 After my final critique for the first semester I decided to get rid of the backing and add in a chalkboard top. The top of it became a really interactive part of the project. It drew people in and got the community excited about participating in more plant based activities.
Co-Creation and Survey Kit
After hearing back about the chalkboard top and how successful it was, I knew it was time for some user feedback.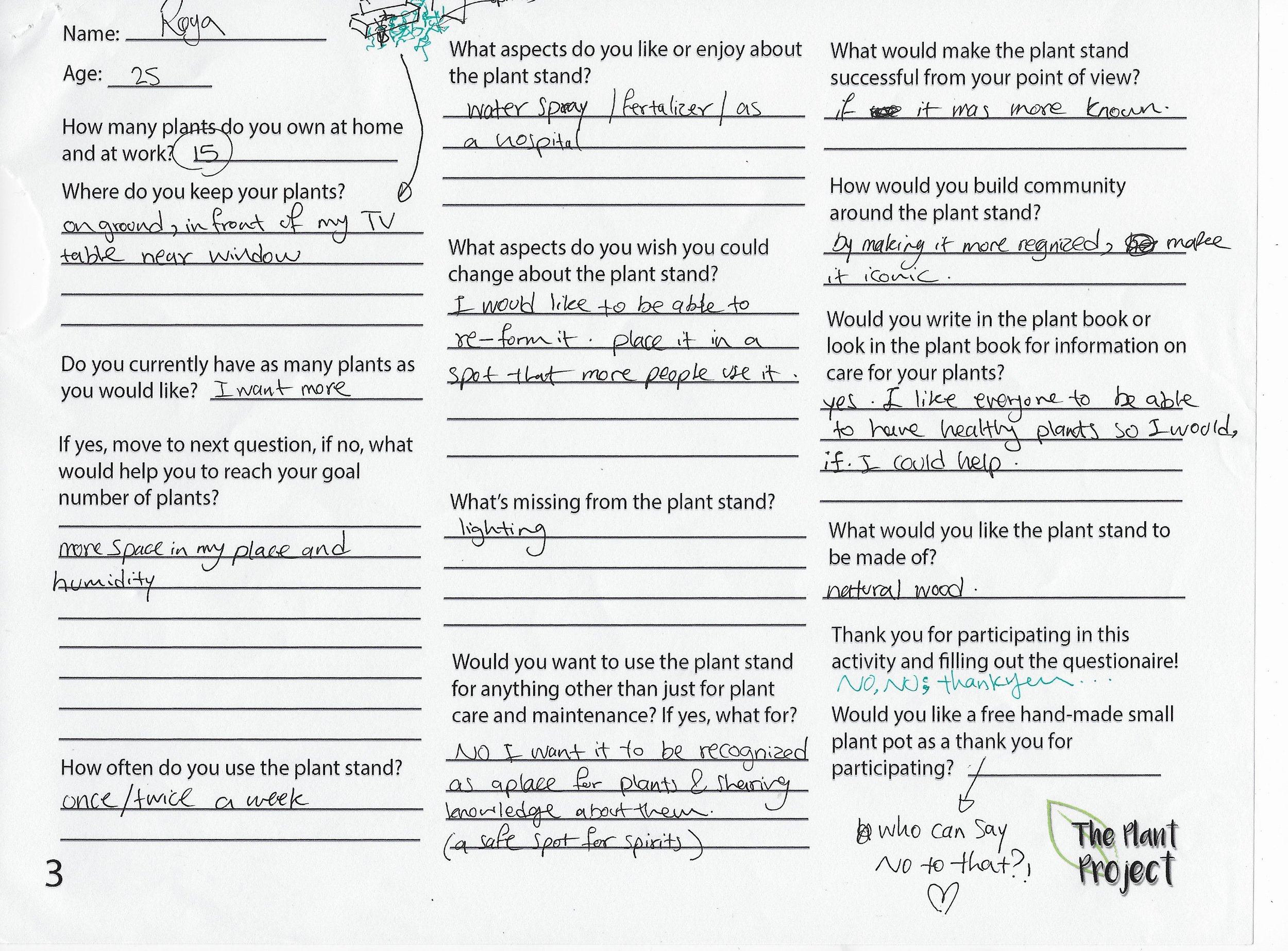 Findings
For user engagement I started off by creating a co-creation and survey kit. As demonstrated below, the users wished for a space without technology. They wished for space that better represented a space for learning about plants. Below are some pictures of how people were interacting with the project and the kits.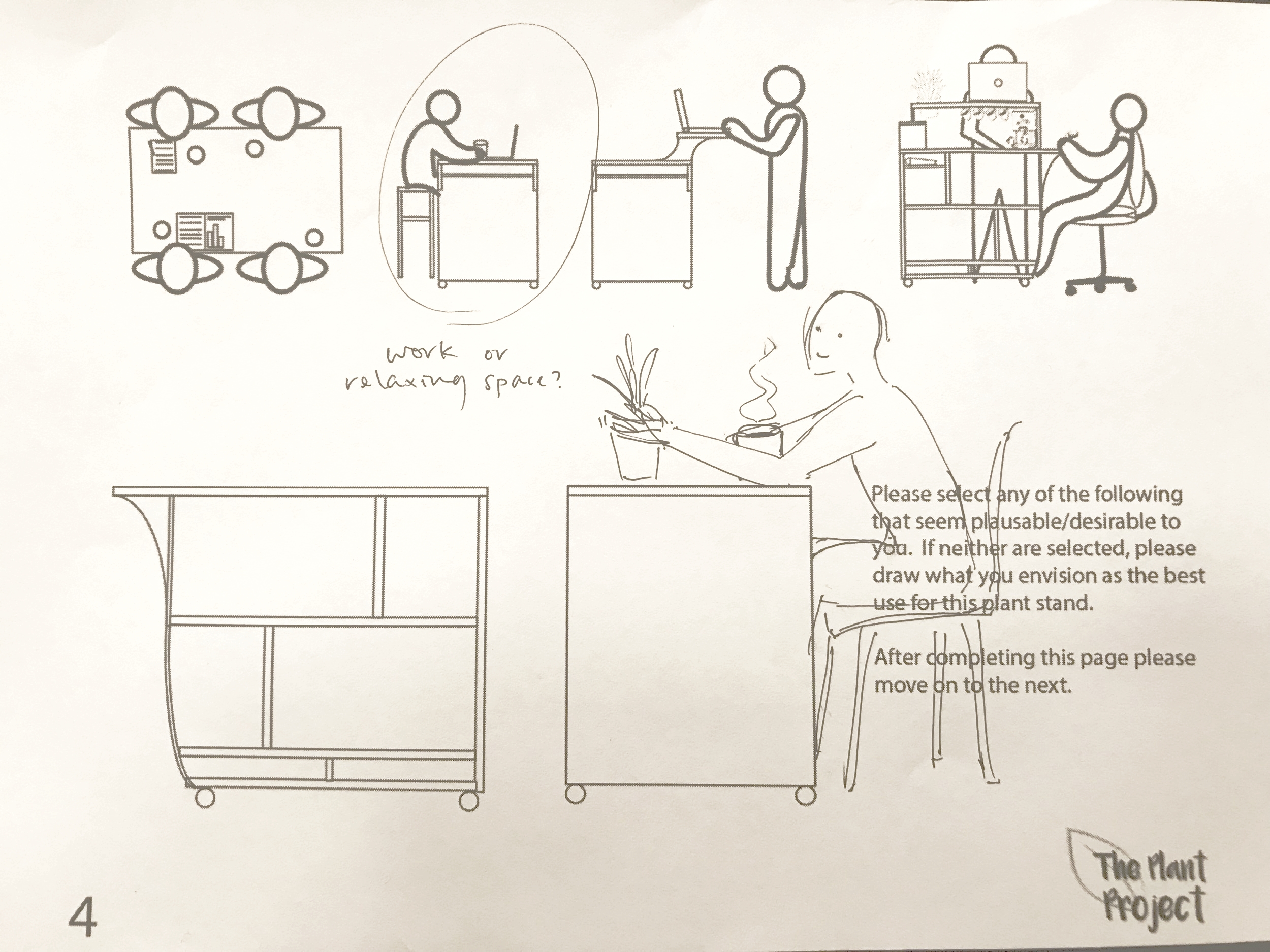 After sending out another form about ideal interactions with the cart I found that people had a desire to be able to sit and engage with the items or plants at the cart for a longer time.
From Sketches to a Full Scale Prototype
After ideating around the shape and interactions I wanted users to have while engaging with the plant stand I landed upon this shape. I wanted to have users experience a "wow" moment when they first get to interact with the stand. The wow moment is when they first get to lift up the top to find all of the tools displayed for them. A secondary "wow" moment is when users get to interact with the compost and soil disposal bins in the side. They have laser cut living hinges the slide along a track to open.
Final Sizing and Rendering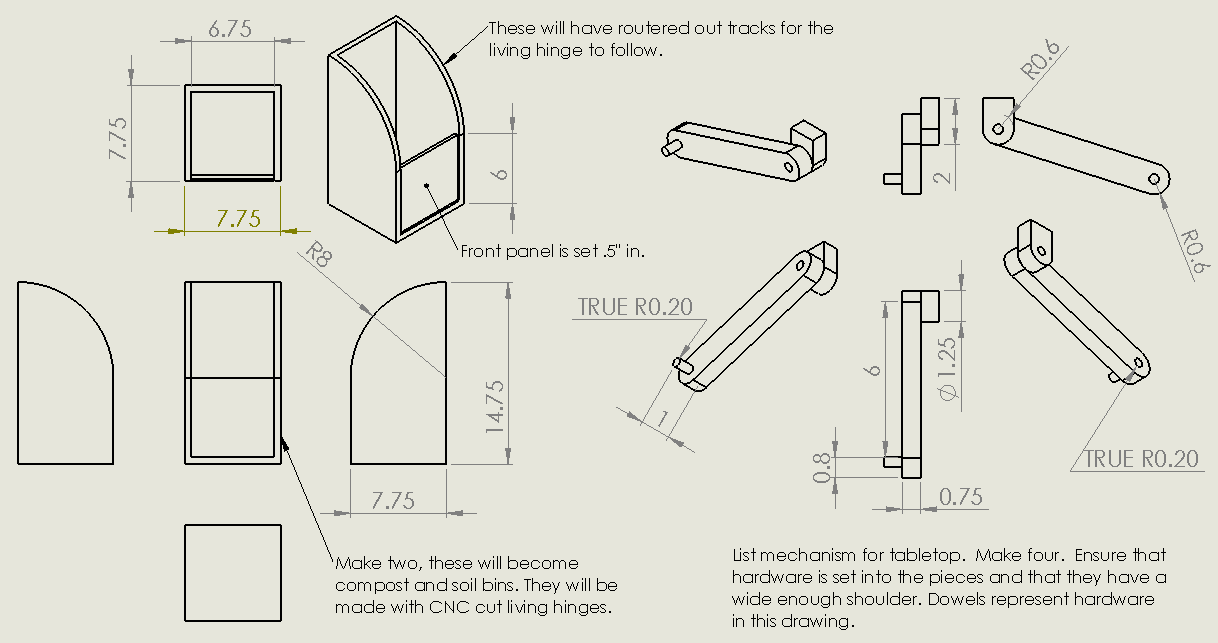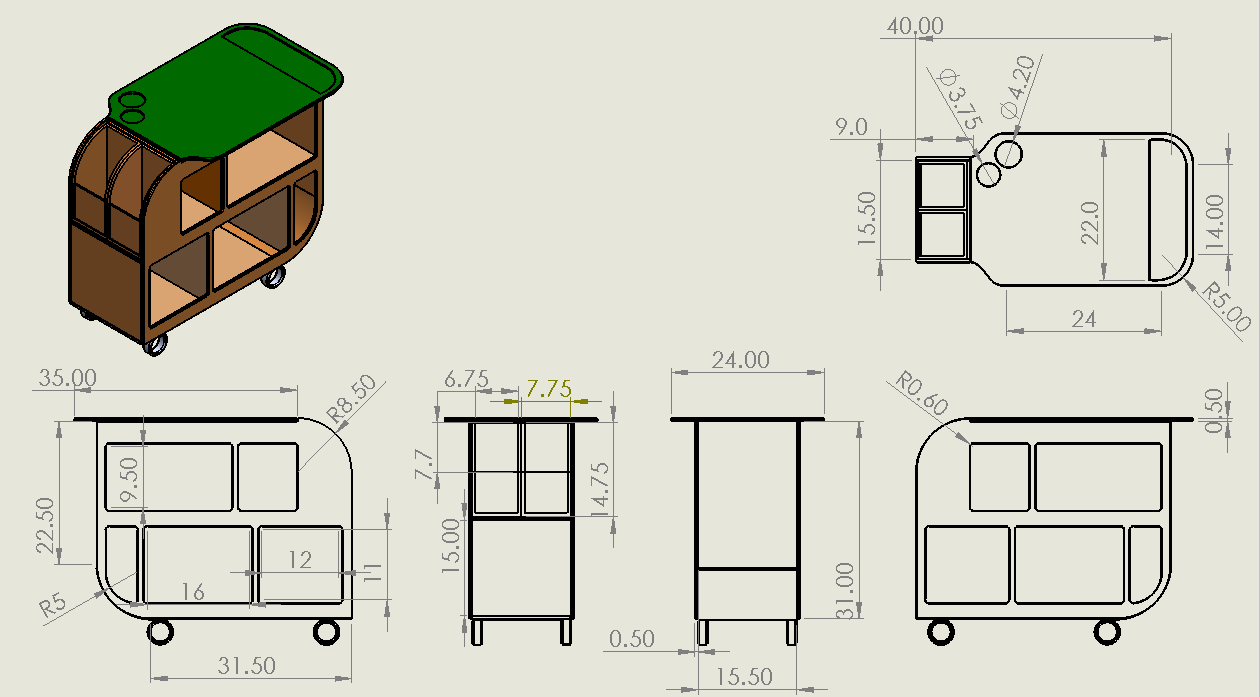 Final Prototype and interactions